Mathijs Jonkers WSOP Diary 2: My WSOP Debut!
Meet Mathijs Jonkers. This summer, the Dutchman will be living his dream of playing in the World Series of Poker Main Event for the very first time. He'll be sharing the entire experience with you in this, his WSOP Diary. Get ready for elation, heartbreak, excitement, parties and maybe, just maybe, a deep run in the biggest tournament of them all.
Diary Part Two: My WSOP Debut!
Wednesday: Day 1c
Today is the day! My debut at the World Series of Poker! As you can read in my last article about my preparations, I focused on a good sleeping schedule, having a good breakfast and looking for good food at the Rio. Around 10:35 I arrived at the Rio. I decided to go to my table right away, so I could notice how experienced the players were. You can see that by the way they act when they arrive at the table. My seat was in the Pavilion room, green section, table 240 seat 4.
The start of the day was hard. I won a small pot and went up to 54,000. But I lost a big pot when I hero called with ace-queen high. My opponent was bluffing with the best hand (ace-king high!). So my stack went down to 33,000. After winning some pots I lost a big pot again with
in a 3-bet pot with a
flop. I had to fold the river after the turn and river bricked. My stack went down to 20,000.
One and a half hours later my stack remained the same. Then, I had to go all-in for the first time in this Main Event!  With my favourite hand (pocket threes) I opened from middle position. The button and the big blind called. The flop came down
. I c-bet and get 2 calls. The turn is a
. When the big blind checks, I bet 5,000, the player on the button folded and the big blind check-raises all-in. I snap call and he has
. Happily for me the river bricks with an
, and I double up to 43,000. YEAAAHHH!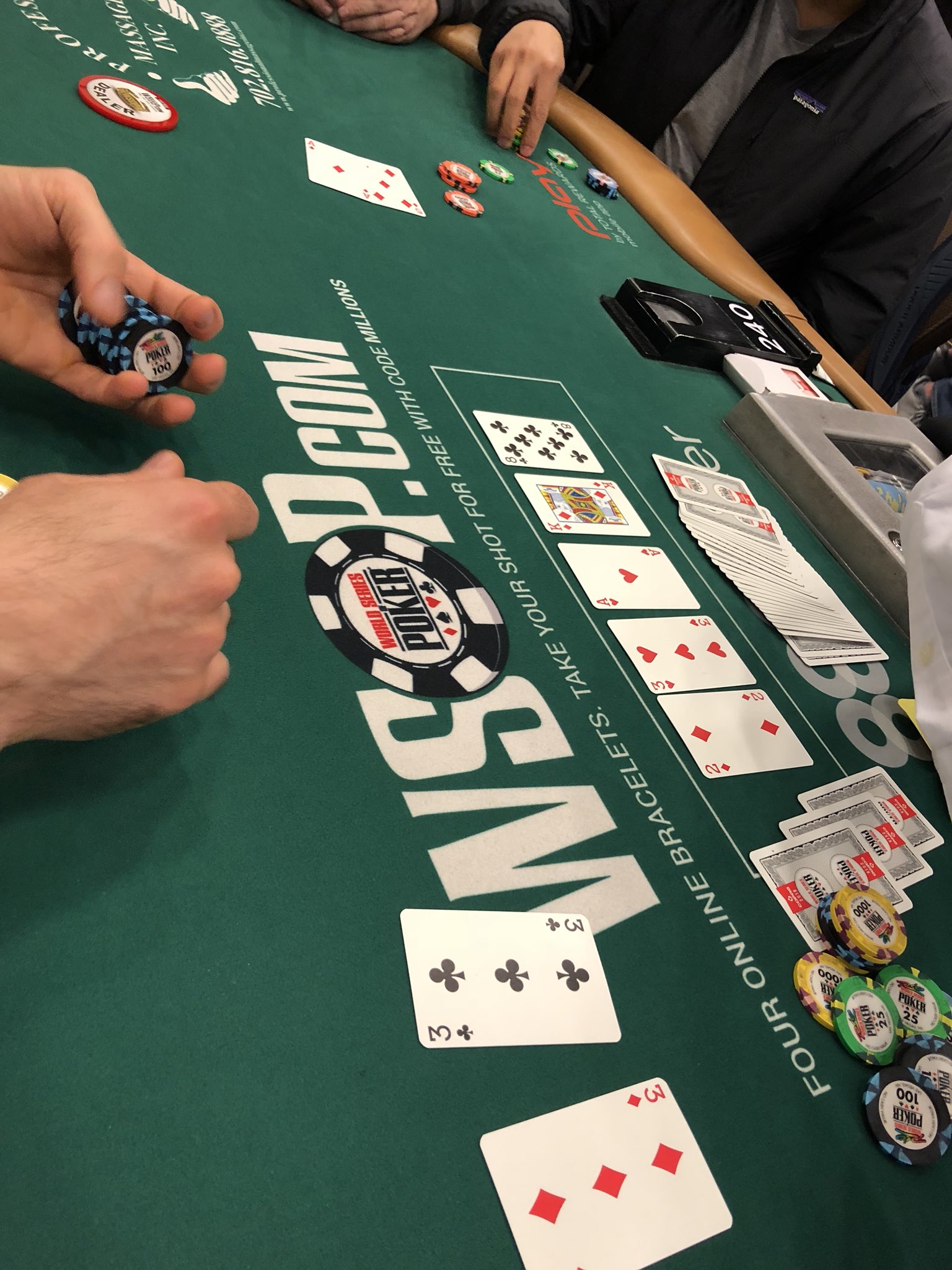 But one hour later my stack was 20K again after I lost a big pot with AA and with KK and had to C-bet fold A10 in a three-way 3bet pot. At the third break of the day my stack was 22k.
After this break I found my way up again. I chipped up in small pots slowly to 30k, to 40k and to 50k! Yeaaahhh, finally back to starting stack again! One hour and 45 minutes remained of day 1 at that point. Fifteen minutes later I get AA, raise preflop and get paid on three streets which let me win a huge pot and I chipped up to 78,000! I was very very happy to end this day like this. But still 30 minutes remained. But it didn't stop! Because I won the very last hand of the day as well.
I open
under the gun, knowing that many players fold in the last hand. The (in my opinion) best player at the table 3-bets me. I know he wants to put me under pressure, because it is the last hand of the day. So I call.  Flop is Qh10x9x and goes check-check.  The turn is a
. So I turn a flush draw. I bet 3,000, the guy makes it 9,000 and I decide to call. The river comes a jack so I river the straight. I decide to check-call, but my opponent checks back and I win!  Which gave me a stack of 91,900 at the end of day one!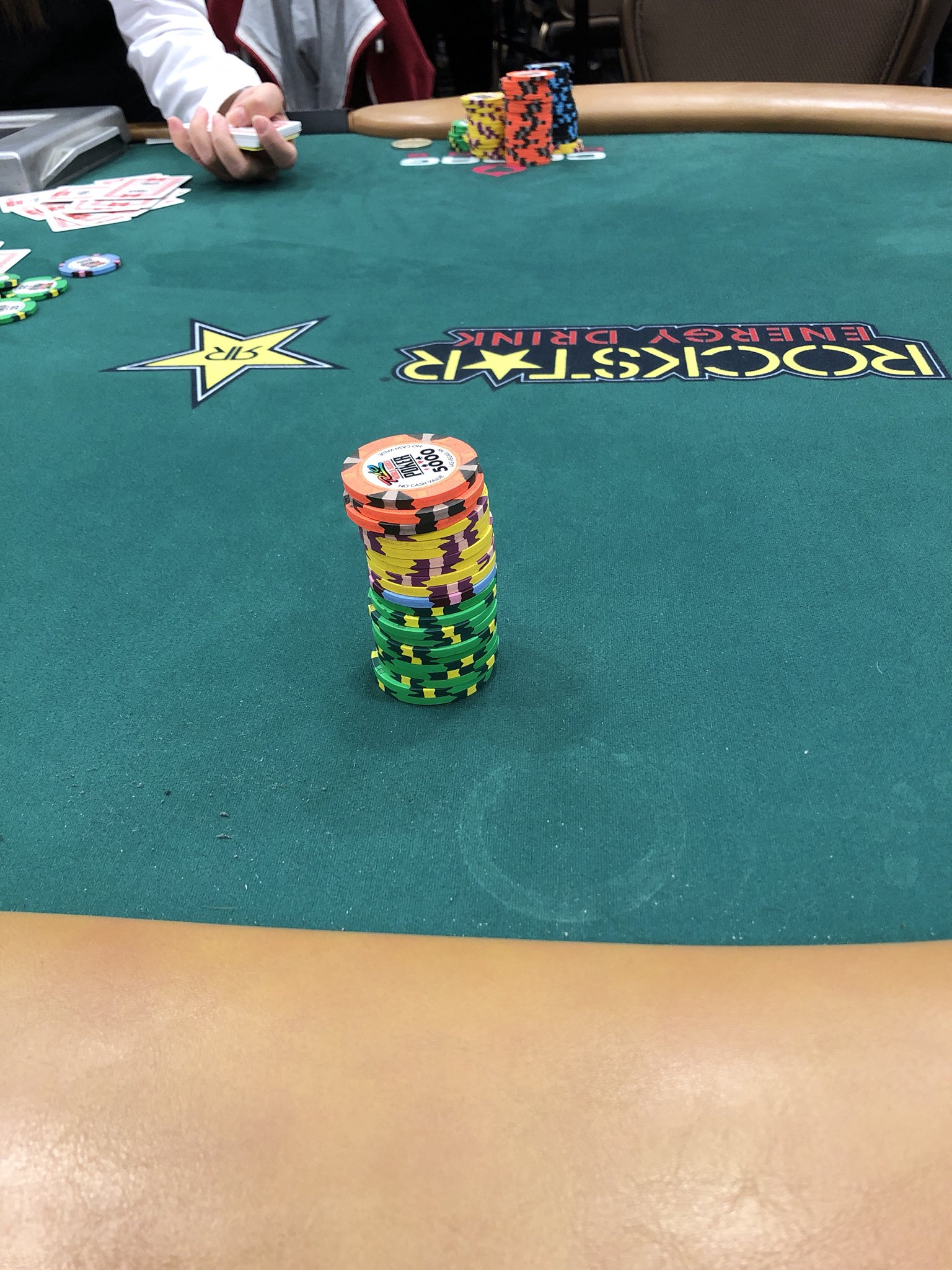 Thursday: Ready for day 2!
After a very tough first day I am very happy with the final result. Day 2 will start on Friday with 300/600/100 blinds. So I can start with 150 big blinds. The last level of the day is 800/1,600/200. With these facts I know there is no pressure at all on Day 2. There is time enough and there will be plenty of nice spots. At this moment I already know the seat draw. Funny fact: I sit next to Jack Sinclair. Jack made it to the final table last year and I have met him several times at Kings Casino in Rozvadov.
Jack is a very nice person, so I am sure the table will be fun! The rest of the table is not very special. Many players don't have much in the way of live winnings. Except for Jack Sinclair and Kevin Calenzo. So let's see what Day 2 can bring! I am totally ready for Day 2! Thankfully, I've got a day off on Thursday while the first Day 2 flight is played. I'm planning on sleeping most of the day!
The next edition of Mathijs Jonkers' WSOP Diary will be up on Sunday
Would you like to write for partypokerLIVE? Every article we publish will be rewarded with a ticket worth $109 on partypoker. Read all about how you can become a writer for partypokerLIVE here! 
18+. T&Cs apply. Begambleaware.org. Play responsibly.