CPP Will Be Fabulous Fun Off The Felt!
The Caribbean Poker Party isn't just about the mind-blowing action at the tables. There'll be plenty of off-the-felt wonderment to be enjoyed out in the Bahamas, including swimming with sharks, a Mini Olympics, and a couple of luxurious Catamaran trips.
The off-the-felt fun kicks off on Friday 9th November with a Welcome Party in MyGarden, a beautiful outdoor area at the Baha Mar. Like always at the CPP, there'll be plenty of fabulous Caribbean cocktails and entertainment for players to enjoy.
On Sunday 11th at 2pm, there's going to be all sorts of fun in the Mini Olympics at Palm Lawn and Bougainvillea Beach, where participants can win their spot on the first Catamaran trip.
For those who prefer exercising their minds, there'll be a quiz in MyLounge at the same time, which will also reward winners with places on the first Catamaran cruise.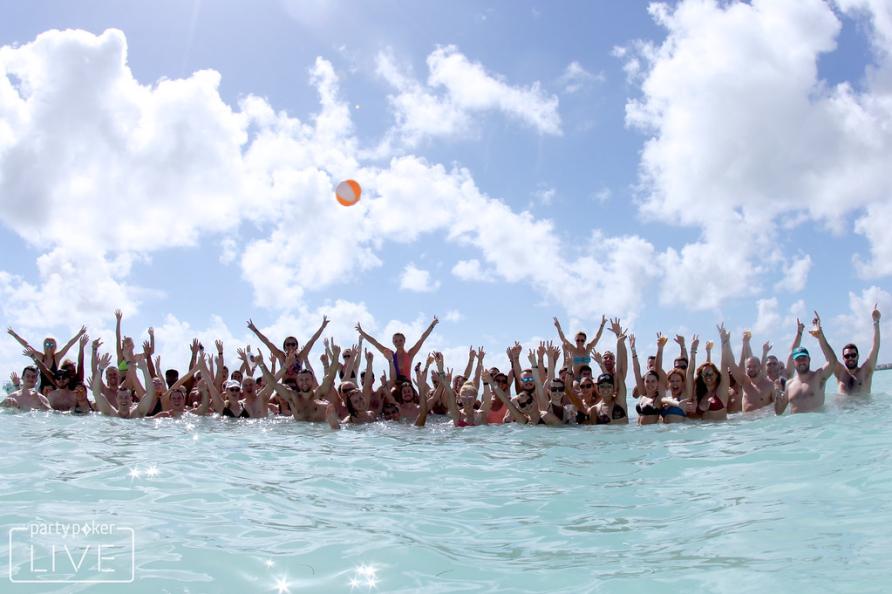 The Catamaran will set sail on Monday, with places reserved for winners of the Mini Olympics and the Quiz. It's always a sensational part of any Caribbean Poker Party, with spectacular views of the dazzling turquoise waters of the Atlantic, sparking white sands and jaw-dropping coastlines of The Bahamas. 
Also on Monday and Tuesday in MyLounge, a Guess the Chipstack competition will give players the chance to earn their place on the second Catamaran trip later in the week. In MyGarden, for those who prefer the smaller version of the game, there will be a Mini Golf course to challenge your mates.
Monday night is karaoke night, which is always a brilliant part of any MILLIONS tour stop. On Tuesday, a 'Survival of the Fittest' challenge will separate the wheat from the chaff at Palm Lawn and Bougainvillea, and will be the last chance for players to earn a spot on Thursday's Catamaran trip.
On Thursday, the luxury mini-cruise leaves port at 12:30pm, but no need to worry if you've not made it on board. With a huge Pool Party at the Elixir Pool from 3pm to 10.30pm, there'll be no fear of missing out! Catamaran trip or Pool Party…it's not exactly Sophie's Choice!
On Friday, it's volleyball and football at The Beach. Just to reiterate, you'll be playing football or volleyball on a Friday… in November… on a sandy beach… in The Bahamas! Now that's definitely better than the 9 to 5.
It's never nice to say goodbye, but it'll be made a lot nicer by the massive Farewell Party at Out Island beach at 7pm on Saturday 17th November! Party animals won't be disappointed when that's over, either, with a Farewell After Party at Bond Club going until 3 in the morning!
Discount Delight
We know that poker players love a discount, and My partypoker LIVE members can take advantage of some fantastic deals that we've negotiated on your behalf during your stay at the marvellous Baha Mar resort. 
They include an hour of FREE personal training with Milda from Fit With Milda, so you can stay lean, mean and in tip-top shape during your holiday. 
For those who love to compete away from the poker table, there will be a 20% discount on tennis at the Racquet Club Baha Mar, with nine brand-new tennis courts available for your use, including two clay courts. 
You can also get 20% off at the fabulous Espa Baha Mar, where you can enjoy taking a moment for yourself at one of the The Bahamas' finest spas. It's a place of respite, luxury, and tranquility, offering soothing services inspired by the beauty of The Bahamas.
For golf lovers, there's a MyMembership special rate of $260 for a round at the famous Royal Blue Golf Club, designed by none other than golf legend Jack Nicklaus. Royal Blue is the greatest golf course in Nassau, featuring 18 holes unfolding over a gorgeous, naturally evolving landscape. Royal Blue is stunning to look at, and thrilling to play.
Ever wanted to swim with sharks- for real, not just at the poker table? For the braver among you, we've also secured you a 10% discount and a waived coordination fee for shark cage and two-tank dives at the gorgeous Stuart Cove. 
Think you could show the bartender a thing or two? My partypoker LIVE members will be able to take part in a complimentary Make Your Own Daiquiri Experience to learn from the best- and enjoy a few delicious cocktails!
Members will also be able to enjoy a complimentary Food is Love Programme from some of the finest chefs at the resort. 
We've also got you a 10% discount at some of the best restaurants at the Baha Mar, Cleo, Fi'lia and Katsuya. Bon Appétit!
These deals will all be available to you from MyLounge with your membership card. You'll be free to attend any or all of the activities you like at your own leisure. 
MyLounge Magic
Members of My partypoker LIVE will be also be able to enjoy all the other benefits of MyMembership, including the famous MyLounge that has proved so popular at other partypoker LIVE stops.
At the CPP, the exclusive My partypoker LIVE lounge will be a dedicated members-only area for you to enjoy complimentary refreshments in between all the ferocious action at the tables.
The lounge will be open from Friday 9th to Saturday 17th November from 1pm to 1am every day. But that's not all! 
partypoker LIVE are also proud to announce that MyGarden, a beautiful outdoor seating area, will also be open from 12pm to midnight from Sunday 11th to Saturday 17th. 
MyGarden will offer a relaxing al fresco seating area and fun and social games underneath the partypoker LIVE tent. That's also where you'll be able to pick up the ever-popular welcome pack, including some cracking merchandise so you can remember your poker trip of a lifetime.
Visit MyLounge located in the Bimini Room 2 at Baha Mar Convention Centre with your My partypoker LIVE app logged in to collect your membership card and enjoy all these benefits. Your MyMembership card will guarantee you access to the lounge, parties and activities during the event and confirm your exclusive offers and deals.
18+. T&Cs apply. Begambleaware.org. Play responsibly.